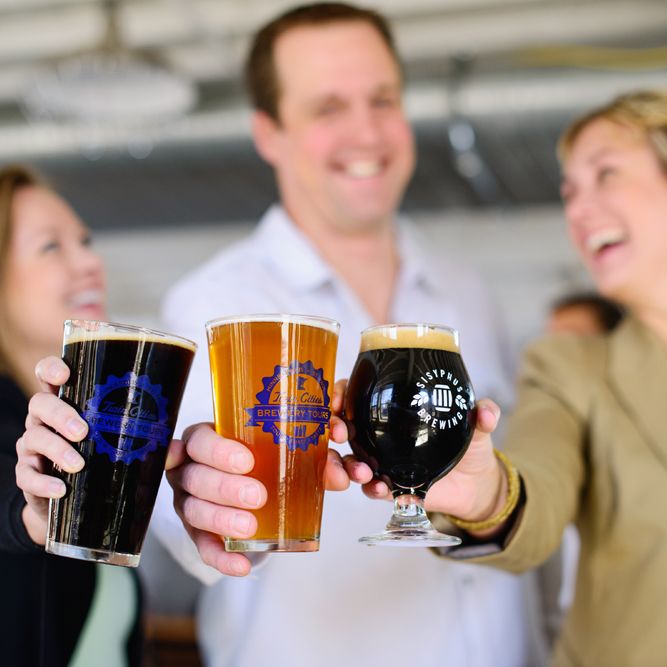 Craft Brew Hop
Leave the driving to us as you enjoy a fun afternoon or evening experiencing the hoppin' craft beer boom! This experience lasts 3 hours and visits 3 local breweries of your choice, where you'll enjoy craft beer at each location. Flagship, seasonal, or local favorites...you won't be disappointed, whatever you drink. Every brewery also has non-alcoholic beverages, so everyone can join the fun! Bring your own drinks to enjoy on the bus!
All You Can Drink packages available for the All-Inclusive experience.
Choose Your Experience!
All-Inclusive - What's Included
Up-to-3-hour experience visiting 3 local breweries of your choice
Transportation: open-air bus runs only in Minneapolis or St Paul; luxury enclosed bus is available metro-wide
Pick-up location of your choice
Delicious craft beer at each brewery
Fun and knowledgeable tour guide
Professional driver
Gratuities for brewery staff, tour guide, and driver
Snacks
Bottled water
Cooler to store your growlers in
Transportation
Click here to view our transportation options.
All the above buses are available for this experience - 12 (open-air bus), 13 (colorful bus), 15, 28, 52+ person
Self-Guided - What's Included
Up-to-3-hour experience visiting 3 local breweries of your choice
Transportation: open-air bus runs only in Minneapolis or St Paul; luxury enclosed bus is available metro-wide
We schedule and book the breweries
Select the breweries or have our experts do it for you!
Pick-up location of your choice
Professional driver
Gratuities for driver
Snacks
Bottled water
Cooler to store your growlers in
Transportation
Click here to view our transportation options.
All the above buses are available for this experience - 13 (open-air bus), 14 (colorful bus) person