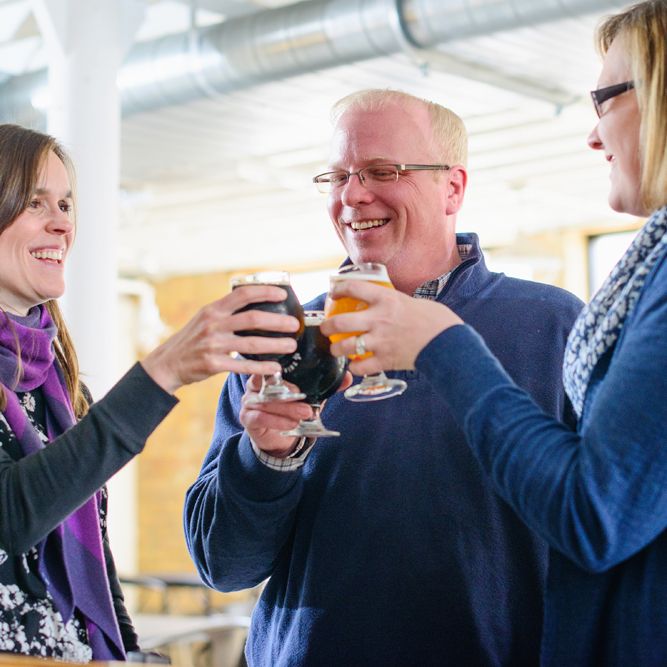 Brewery Distillery Cidery Tour
Good things come in threes, and this tour is no exception. We'll take you to a brewery, a distillery, and a cidery for delicious artisan beverages. The Twin Cities' clean, clear water makes some of the country's best libations. Taste for yourself with drinks included at Royal Foundry Craft Spirits, Number 12 Cider, and Bauhaus Brew Labs. Bring your own drinks to enjoy on the bus!
Choose Your Experience!
All-Inclusive - What's Included
Up-to-3-hour experience visiting 1 brewery, 1 distillery, and 1 cidery
Transportation: open-air bus runs only in Minneapolis or St Paul; luxury enclosed bus is available metro-wide
Pick-up location of your choice
Beer, spirit, or cider at each venue
Fun and knowledgeable tour guide
Professional driver
Gratuities for venue staff, tour guide, and driver
Snacks
Bottled water
Cooler to store your growlers in
Included Venues OR Choose Your Own
Royal Foundry Craft Spirits - A Minneapolis distillery with British spirit, this grain-to-glass distillery produces fine spirits made in the classic British tradition using grains, botanicals and classic recipes. Sample their London style dry gin, Royal Navy style rum, or single malt Scotch style whiskey. Cheers!

Number 12 Cider - Minnesota's largest cider house, located in the North Loop. This hip craft cidery uses centuries-old techniques to create up to 16 lines of distinctive ciders. Sample semi-dry Barrel 44, semi-sweet Trilogy, or sweet Flo-Rider. With 15 awards under their belt, there's no wrong choice!

Bauhaus Brew Labs - Bauhaus takes a unique look at classic German-inspired beer styles, skewed slightly by a sense of play and adventure. Their flavor-forward, sessionable beers are crafted to surprise and delight without taxing the palate. Sample core beers like Lounge Wizard or seasonal curiosities like Shortpants.
Transportation
Click here to view our transportation options.
All the above buses are available for this experience - 12 (open-air bus), 13 (colorful bus), 15, 28, 52+ person
Self-Guided - What's Included
Up-to-3-hour experience visiting 1 brewery, 1 distillery, and 1 cidery
Transportation: open-air bus runs only in Minneapolis or St Paul; luxury enclosed bus is available metro-wide
We schedule and book the venues
Select the venues or have our experts do it for you!
Pick-up location of your choice
Professional driver
Gratuities for driver
Snacks
Bottled water
Cooler to store your growlers in
Transportation
Click here to view our transportation options.
Buses from the above that are available for this experience – 13 (open-air bus), 14 (colorful bus) person